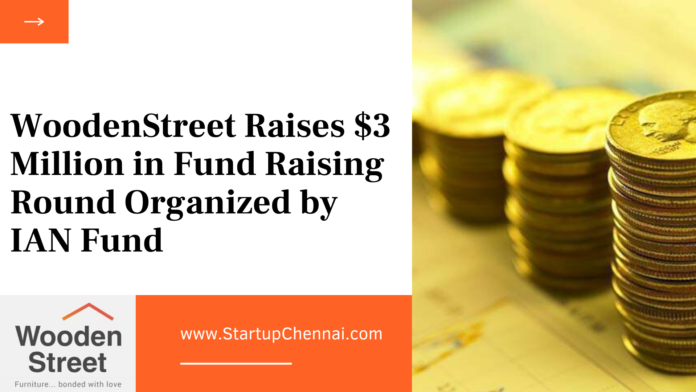 The famous online furniture store, WoodenStreet, has raised 22.5 crores, approximately $3 million in a fundraising round organized by IAN Fund. WoodenStreet has been supplying customized furniture to their customers since its establishment in May 2015.
WoodenStreet is a Jaipur based company and has been co-founded by Dinesh Pratap Singh, Lokendra Ranawat, Vikas Baheti, and Virendra Ranawat. It is run by The Woodenstreet Furnitures Pvt. Ltd. Lokhendra Ranawat is an MBA from the Institute of Management Technology, Ghaziabad. Vikas Baheti has earlier worked with the famous US-based
computer maker Dell. Virendra Ranawat has acquired his diploma in management from XLRI, Jamshedpur. Dinesh Pratap Singh has completed his degree from the Indian Institute of Management, Kozhikode.
Rajasthan Venture Capital Fund (RVCF), their existing investor, also took part in the fundraising round. WoodenStreet looks forward to using the funds to spread their business not just in more states of India but also across the world.
The co-founder of IAN, Saurabh Srivastava said, the progress of WoodenStreet is not just apparent but remarkable too. He believes in the company and trusts that they will come up with original products regularly and establish a name for themselves in the market of furniture.
WoodenStreet is a new startup in the market but has already won the hearts of thousands of customers who purchase custom-made wooden furniture from them. The customers have an option to select products from an existing catalogue that comprises of pre-made designs and then request for modifications according to their requirement, or they can get in touch with the designers directly and state their demands.
The products are customized using different types of wood, fabric, colours and wood finishing.
Presently, there are 25 experience stores spread across India, and the company is looking forward to adding 25 more stores in the next two years. They have delivery centres in more than 100 Indian cities and they claim to have closed the financial year with a revenue of Rs.100 crore.
Final words
It would be great to see a young company doing so well in the furniture business. We look forward to seeing more interesting pieces of furniture from WoodenStreet in future.(Ref)