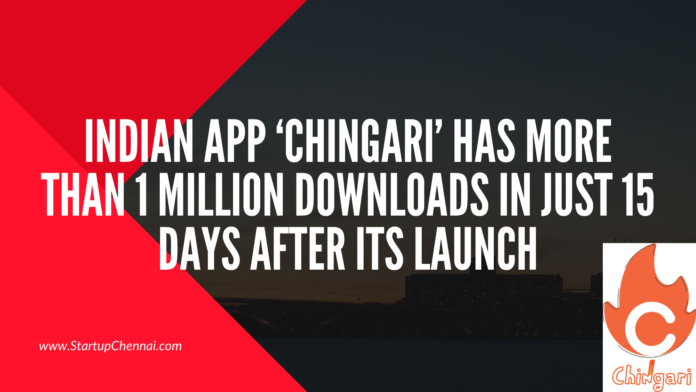 Ever since the border tensions between India and China are on the peak, Indian developers have been trying to create an app that is similar to TikTok since India has been trying to boycott all Chinese products.
Chingari is a new Indian video-sharing app that has made headlines because it has already crossed 1 million downloads in less than 15 days after its launch. Users can upload and download videos, interact with new people, chat with their friends, browse the feed, and even share content. They can upload WhatsApp videos, statuses, pictures, audio clips, and
GIF stickers. Users have the option to use the app in languages like Hindi, Punjabi, Bangla, Tamil, Kannada, Telugu, Kannada, Marathi, and Gujarati. The app is at the top of Google Play Store downloads.
Chingari has been developed by Biswatma Nayak and Siddharth Gautam, who are from Bengaluru.
Biswatma Nayak, the developer of this app, said that Chingari has received an overwhelming response. Ever since people have come to know about an Indian app which is an alternative to TikTok, they have been downloading it. The traffic experienced is beyond their expectations, and they look forward to keep their users entertained and amused through the features of their app.
They are looking forward to scale up their platform and will add more features to it soon. Since the downloads have reached amazing numbers there are many investors that are looking forward to partner with them. The two founders and developers of the app are yet to decide upon a good investor as they wish to provide this social platform and many of its features for free.
The Chingari app is quite similar to the Mitron app, which was removed from Google Play Store as it had violated their policies. However, it has been restored after certain developments and submission of certain documents as required by Google Play Store.
Conclusion:
Chingari has received an overwhelming response from the Indian users. We are yet to see how consistently this app performs and whether or not it would be as popular as TikTok.