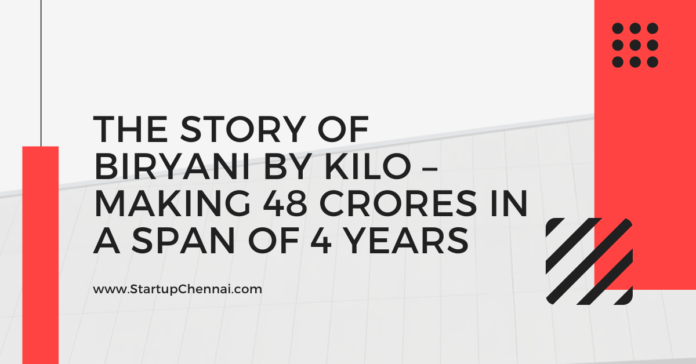 In a country where 95 biryanis are ordered per minute, we have a competitive start-up that made Rs 48 crore in a span of only 4 years. This is Biryani by Kilo, started by Vishal Jindal and Kaushik Roy in the year 2015 as a cloud kitchen.
They are primarily known for providing delicious biryani in handis and angeethis to their customers, along with other dishes like kebabs, phirni, and korma being in their menu. As of now, there are 40 outlets of Biryani by Kilo across 20 cities in India.
Although the crisis of Covid-19 has brought down sales of all cloud kitchens and restaurants, the company has taken safety measures for their employees and consumers and is operating in states where food outlets are open.
In the year 2016 itself, they had made Rs 86 lakhs. After growing big enough in 4 years, their journey ahead seems less likely to be disturbed by the current pandemic. They have been taking orders through their website, app, call center and food delivery platforms like Zomato and Swiggy too.
So far, they have been working on maintaining quality standards and consistency in their food. Now, their agenda for the next few years is expanding all over India. With 40 outlets in 20 cities, they still do aim to make 70-80 crores for the financial year of 2021.
Conclusion:
Their vision for the future is only geographical expansion – starting from having 70-80 outlets in a span of 18 months, followed by having more than 150 outlets all across India in the next 4 years. As the biryani market in India is expected to grow by 25-30% in the next 2 years, so is BBK moving towards earning revenues worth 150-200 crores.