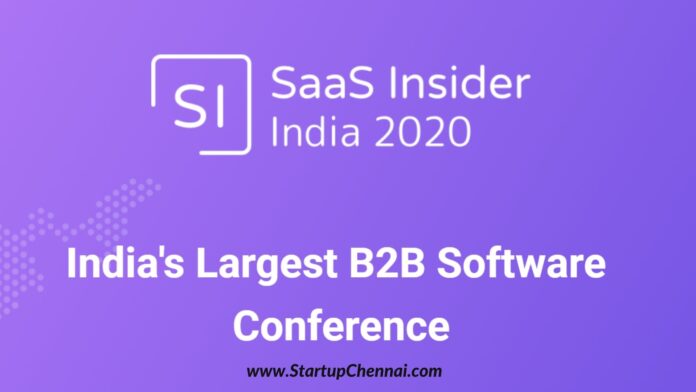 Dive deep and look for your opportunity
Gist of the Conference
Exciting Expos
Meet investors
Join Roundtables
Connect with fellow founders
Exciting Expos:
Join the expo displaying the best, latest and advanced SaaS products from around the globe to curate your business needs.
Meet Investors:
Exclusive matchmaking options will be presented for interested founders and investors who share mutual interest of products.
Join Roundtables:
Be a part of roundtables and live AMA's with industry experts and take the opportunity to learn and implement new ideologies to your business.
Connect with fellow founders:
Connect with the most efficient people in the industry and learn from them and grow the opportunities. Meet industry experts, executives and fellow SaaS founders in online sessions.
Agenda
Take a look at the agenda for the day and see what these speakers have to offer for you and your business.
Mr. Rajendran Dandapani from the founding team of Multi-National Corporation Zoho and Mr. Aniketh Jain, the Chief Revenue Officer of Kaleyra will be speaking on "Why sustainability and profits is more important than raising money or YoY growth?" from 10.15 AM-11.00 AM.
Anil Chalasani, Country Head of India and SVP at Gainsight will be addressing on "Customer Success Economy – The Way Forward" from 11.00 AM – 11.30. Watch his interesting take on the importance of CSM now more than ever.
Join Rajalakshmi Srinivasan, Director – site 24×7 at Zoho's talk on "Balancing Customer Ask and Product Roadmap" from her 20 yeras of product experience and how to escape the trap between product request and your product vision from 11.00 AM-11.30 AM.
Watch as Mr.Paresh Mandhyan, Director of Marketing, VWO talks on "Going Bullish on Experiment-Led Growth", while he uncovers an under utilized growth accelerator in the Indian SaaS ecosystem between 11.00AM-11.30AM.
Mr.Nikil Kapur, Partner at Strive VC, will be speaking on "Surfing the SaaS Waves in India" , and discuss the various investment trends in the Indian SaaS ecosystem from 11.00 AM-11.30 AM.
Mr. Gollapalli Sridhar, VP of Customer Success at Gainsight talks on "Customer Success at Scale" as he dives into the conversation on expanding the team while maintaining efficiency between 11.30 AM and 12.00 PM.
Join Mr.Vikram Bhat, Chief Product Officer at Capillary's talk on "The Value of SaaS Platforms for Analysing Customer Data" and how to leverage SaaS platforms to get a 360 degree view of your customer performance from 11.30 AM-12.00PM.
Mr.Mohan Ram, GTM Lead- APAC at DigitalOcean will be presenting on "Growth Strategies for Early Stage Startups" and how DigitalOcean built a $300M Sales Engine between 11.30AM-12.00PM.
Watch Vidhya Santhanam, Co-Founder & CEO at Fitbots OKR Platform discuss on "What the Fish is OKRs" and as she talks on what and how of OKR implementation between 11.30AM-12.00PM.
Mr. Anand Datta, Vice President of Nexus VP will be sharing his thoughts on "How Does a Startup Valuation Work" between 11.30AM-12.00PM.
Mr. Nathan Latka of Founderpath.com will be presenting on "Debt Financing as an Alternative to Equity for a Sustainable Growth" between 12.00PM-12.45 PM.
Mr.Prasanna Krishnamoorthy, Partner of Upekkha will share his experiences on do's and don'ts that he picked up after working with 100+ B2B SaaS startups in the session "Lessons from Upekkha" from 12.45PM-1.15PM.
Join Neha Sanjay, Head of Marketing at Esper and Ashwin S L, VP of Marketing at MoEngage Inc. speak on "Setting up Growth Marketing Teams for SaaS Organizations" and the ABC's of forming a growth marketing team from 12.45PM-1.15PM.
Mr.Arvind Parthiban, CEO & Co-founder SuperOps.ai, Mr. Rishi Kulkarni, CEO of Revv.so and Mr. Srikrishnan Ganesan, Co-founder of Rocketlane will be discussing "Startup Exits – Stories behind every acquisitions" between 1.45PM-2.30PM.
Mr.Ankit Utreja, Co-founder and CTO of WebEngage will be speaking on "How to Build a Consumer Grade B2B Product", as he shares his experience on building great consumer products from 2.30PM-3.00PM.
Mr.Niraj Ranjan, Founder and CEO of Hiver will be sharing his thoughts on "Pricing Strategies as a Growth Accelerator" as he discusses his two cents on leveraging pricing as a growth driver in the SMB and Mid Market space from 2.30PM-3.00PM.
Join Vineetha VIjayakumar, Product & Program Management at Esper speak on "Building Cross Functional Teams for Enterprise SaaS Startups" and her thoughts on bridging the gap between product and GTM teams from 2.30PM-3.00PM.
Mr.Siva Rajamani, CEO & Co-Founder of Everstage will be discussing his take on "Building Your Career towards Starting Up in SaaS" as he outlines the skill sets one has to acquire to become a successful founder from 2.30PM-3.00PM.
Join Mr.Nadan Venkatachalam, Investment Manager at Axilor 's ideologies on "Do's and Don'ts in a Pitchdeck" as he talks about how to build a winning pitchdeck from 2.30PM-3.00PM.
Tune in as Mr.Aniruddh Nagodra, Co-Founder and CEO of FactoHR talks about his journey as he talks about his journey of starting up outside an IT hub in "Bootstrapping to a Million $ from a Tier 2 City" session from 3.00PM-3.30PM.
Learn from Mr.Ramprakash Ramamoorthy,Director – AI Research at Zoho the "Mistakes to Avoid While Building an AI Product" whose product serves more than a Billion requests everyday, between 3.00PM-3.30PM.
Mr.Laxman Papineni, Co-Founder at Outplay will be sharing his stand on "Future of Outbound Selling" for selling ahead of the curve from 3.00PM-3.30PM.
Mr.Ashwin Krishna, Head of Growth Marketing at Tact.ai, will be decoding the enterprise growth marketing techniques during the session "Enterprise Growth Marketing Playbook" from 3.00PM-3.30PM.
Join Smrithi Parameswar, Product Leader & Startup Consultant 's take on "Penetrating a Crowded Market" between 3.00PM-3.30PM.
Understand "What Makes VCs Invest in SaaS?" from the conversation between Mr.Ganapathy Venugopal, CEO & Co-Founder of Axilor Ventures and Mr.Vishesh Rajaram, Managing Partner at Speciale Invest between 3.30PM-4.15PM.
Watch Karthi Mariappan, Co-Founder & Ceo of Hippo Video share his experience in pivoting Hippo Video twice and his rich experience of 15+ yrs in product management in a session teaching "Pivoting your SaaS Startup" from 4.15PM-4.45PM.
Learn from Mr.Vishrath D, Director of Sales & Partnerships-APAC at Esper as he shares his knowledge on "Playbook to Setup Channel Partnership" between 4.15PM-4.45PM.
Join Mr.Dinesh Varadharajan, VP of Product Management at Kissflow Inc's talk on "Design and Sales Thinking of Product Management" and his learning on how to build a product that can sell itself from 4.15PM-4.45PM.
Listen to Mr.Saravana Kumar, Chief Executive Officer, Kovai.co's talk on Kovai.co's path to $10M in his session "Road to $10M – a Bootstrapped Journey of Kovai.co" from 4.15PM-4.45PM.
Mr.Vedanarayanan Vedantham, SME Business Head at Razorpay will be discussing "Digital Marketing Playbook for SME" and the 101 of digital marketing for small and medium enterprises from 4.15PM-4.45PM.
Mr.Suman Ram, Solutions Leader, Zendesk talks about "CX is the New Normal – Two Industry Perspectives" and why customer experience is more important now than ever between 4.45PM-5.15PM.
Join Mr.Ketan Pandit, Director – Global Partner Marketing, CleverTap while he shares his ideas on "User Engagement & Retention as a Foundation for Growth" and how to build User Engagement & Retention as the Foundation for Growth.
Watch Mr.Tanmaya Jain, Founder & CEO of inFeedo share his hard learnt lesson from his entrepreneurial journey in his session "Lessons Learnt from Starting Up at 18" from 4.45PM-5.15PM.
Learn how to eliminate bias while designing a SaaS product with Mr.Rakesh Mondal, Design, Zomentum in "Eliminating Unconscious Bias in Design Thinking" between 4.45PM-5.15PM.
Watch as Mr.Siddharth Sharma, Head of Marketing at Verloop.io explains the difference between B2B & B2C and what helps you win customers in "B2C Vs B2B SaaS – How marketing Works Differently?" between 4.45PM-5.15PM.
Community Partners
StartupChennai is official community partner with SaaSInsider. Don't wait!!!, go and register now @ SaaS Insider India 2020.